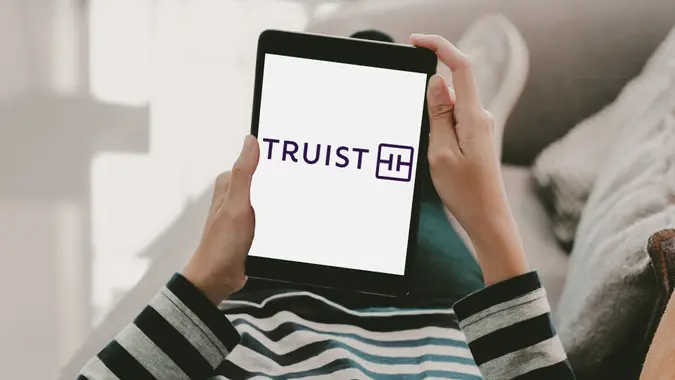 The Truist routing number is 061000104 — but before you use that number, keep in mind that Truist was formed by a merger of SunTrust Bank and BB&T Bank, so your routing number may be different.
About Truist
In 2019, SunTrust Bank and BB&T Bank merged to form Truist, becoming the sixth largest commercial bank in the United States at the time. Truist offers a range of banking services from personal to business, including deposit accounts, wealth management and loans.
What Is a Truist Routing Number?
A routing number is a nine-digit number that determines where your money goes when it is transferred between bank accounts in the U.S. They are also called ABA numbers.
Using the right number is very important, since the wrong one will end up with your direct deposit, check or ACH transfer going to the wrong bank. Keep in mind that your Truist routing number may match a routing number from SunTrust — which is 061000104, the same as the Truist routing number — or BB&T, which had different routing numbers for each state it served.
The BB&T routing numbers can be found here:
| State | BB&T Routing Number | State | BB&T Routing Number |
| --- | --- | --- | --- |
| Alabama | 062203984 | North Carolina | 053101121 |
| District of Colombia | 054001547 | Ohio | 042102267 |
| Florida | 263191387 | Pennsylvania | 031309123 |
| Georgia | 061113415 | South Carolina | 053201607 |
| Indiana | 083974289 | Tennessee | 064208165 |
| Kentucky | 083900680 | Texas | 111017694 |
| Maryland | 055003308 | Virginia | 051404260 |
| New Jersey | 031204710 | West Virginia | 051503394 |
What Routing Numbers Mean
The nine digits in a routing number each correspond to an identifying attribute.
The first four digits are used to identify the Federal Reserve district and the bank's location. The following four digits would identify the specific bank, like Truist. The final digit, the "check digit" is used to help prevent fraud and validify the entire number.
How To Find Your Truist Routing Number
Finding out what your routing number is can be frustrating with just one bank. Adding the complications involved in merging two banks makes it that much harder.
You can find your Truist routing number in a few different ways:
By contacting Truist
Looking at a check or your bank statement
Logging into your account online
If you're unsure that you have the right routing number, it's important to contact Truist at 844-487-8478, because your money might end up in the wrong account if you have the wrong routing number.
Finding Your Routing Number on a Check
Routing numbers are located at the bottom left of your checks, but they will sometimes be closer to the middle. The first nine digits in this string of numbers would be the routing number.
The following digits are your account number and the check number.
Truist Routing Number for International Wire Transfers
If you need to receive money from an international transfer to your Truist account, you'll want to provide the sender with the Truist SWIFT code, as well as your account number. The SWIFT code for Truist is SNTRUS3A — sometimes you'll find XXX at the end, which indicates that Truist does not have specific branch codes within its SWIFT code.
What Is a SWIFT Code?
A SWIFT code is an 8 to 11 digit series of letters and numbers used to identify a bank for international money transfers.
The first four characters are the bank's code, the next two characters are the country code and the following two characters signify the location of the bank's headquarters. The final three characters are optional and identify the location of a specific bank branch.
What You'll Need for a Truist International Transfer
Truist allows you to set up wire transfers through its online portal or with a bank representative. For you to receive an international wire transfer to your Truist bank account, the sender will need to provide the following information.
The amount of money being transferred
The frequency of the transfer, if it is recurring
The date the money should be transferred
The reason for the transfer
Your bank account information, including the account number and SWIFT code
They may also need to provide some of your personal information, such as your address.
Takeaway
It is vitally important to make sure you have the correct routing number before you set up a direct deposit, ACH transfer or otherwise move money between bank accounts. If you're uncertain of your routing number, account number or any other information needed for the transfer, call your bank.
GOBankingRates' Best Banks 2023
FAQ
Are the Truist and SunTrust routing numbers the same?

Yes, the Truist routing number is the same as the SunTrust routing number. However, Truist may also still be using routing numbers from BB&T Bank, so it's important to confirm your routing number before initiating a transfer.

Does Truist have different routing numbers?

According to a Truist customer service representative, Truist has only one routing number. BB&T routing numbers may still be valid, depending on your account, so you should contact Truist if you're not sure which number to use.

Does SunTrust have two routing numbers?

SunTrust had only one routing number, which is now the routing number for Truist.
Information is accurate as of April 24, 2023.
Editorial Note: This content is not provided by any entity covered in this article. Any opinions, analyses, reviews, ratings or recommendations expressed in this article are those of the author alone and have not been reviewed, approved or otherwise endorsed by any entity named in this article.
Our in-house research team and on-site financial experts work together to create content that's accurate, impartial, and up to date. We fact-check every single statistic, quote and fact using trusted primary resources to make sure the information we provide is correct. You can learn more about GOBankingRates' processes and standards in our editorial policy.
link