This story is a partnership between the Nashville Banner and the Nashville Scene. The Nashville Banner is a nonprofit, nonpartisan news organization focused on civic news and will launch later this year. For more information, visit NashvilleBanner.com.
---
Whether Mayor John Cooper runs for reelection on neighborhood issues or big projects, he has a potentially big problem: Nashvillians no longer feel like the city is on the right track. 
And his political opponents have taken notice.
As the mayor stepped to the podium to give his recent State of Metro speech, there was an obvious focus on 2023. This address is almost always held downtown, but the mayor and his staff chose to move the venue to Southeast Community Center for a variety of reasons. Not only is Antioch one of the fastest growing parts of the city, it's rich with African American voters who Cooper will depend on in order to win another term. Cooper has done well with Black voters in two previous races — as has his brother, retiring U.S. Rep. Jim Cooper. And there is no more energized electorate in the city. 
Cooper outlined a plan for the next year and, by extension, the issues he hopes to run on when he stands for reelection: affordable housing, homelessness, police and public safety, education and adding greenspace. The budget he proposed promises a little bit of everything, from more funding for first responders to increased pay for school staffs to added resources for picking up garbage. 
"Good schools, clean streets, safe neighborhoods, reliable city services and sound city finances, affordable housing, world-class parks … live-work-play communities to raise a family in," Cooper said at the April address. "That is Nashville."
The meat-and-potatoes proposals represented a return to the types of issues Cooper wanted to govern on before his term was sideswiped by a tornado, a tax increase and a global pandemic. But the speech was notable almost as much for what was missing. 
There was no mention of the east bank of the Cumberland River, home to a future Oracle campus and a proposed new Titans stadium. There was no mention of the hundreds of millions that would have to be financed for a domed structure that could host not only NFL games, but concerts and high-profile events like the Super Bowl and NCAA Final Four. And there was zero reference to the newly minted deal to buy the former Hickory Hollow mall adjacent to the community center where he was speaking. 
The week before, Cooper had previewed his campaign themes for potential donors and included the east bank in his messaging. The infrastructure, according to one attendee, is a major piece of what Cooper considers to be his legacy: downtown connected to East Nashville and a path to Murfreesboro Pike and the airport. If a dedicated transit line were layered on top, the path would represent a potentially transformative piece of traffic engineering.
Instead, guided by an internal poll that showed the public lukewarm on a stadium deal, the mayor chose to emphasize building sidewalks, fixing potholes and touting more money for schools.
"Fixing our finances made this investment possible," Cooper said at State of Metro, attempting to blunt the political effects of a historic property tax increase enacted just two years ago.
But for Cooper and the city, the political sands have shifted.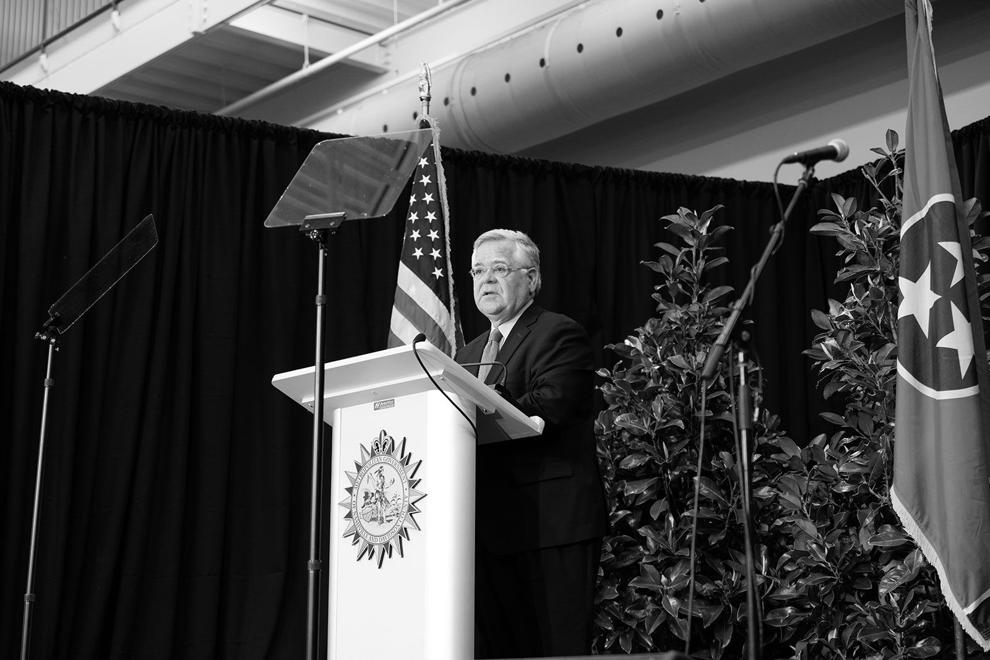 ---
Polls are an imperfect measure of public sentiment. The best polls reach a wide enough swath of the electorate to account for racial, economic and other factors. But as people have become untethered from landline telephones, polls have been increasingly erratic as a way to predict outcomes.
But what polls can do, over time, is gauge trends. The Scene reviewed more than a dozen surveys, including nine from the past 18 months, from both public pollsters like Vanderbilt and private polls commissioned by candidates and interest groups. (Because some of the polls came from sources that were not authorized to release them, the Scene agreed to not name their origin.) We discarded any surveys that were not done by recognized pollsters, had methodologies that were suspect or had large margins of error. 
In general, an ever-increasing percentage of Nashvillians are unhappy with the direction of the city. In both the Vanderbilt Poll (53 percent) and a private poll conducted in April (54 percent), more than half of the city is pessimistic about the future. 
"It kind of taps both what people are thinking about the city, but then also, it's infused with their own personal situation in some sense, right?" says Josh Clinton, a professor at Vanderbilt University and co-director of its poll. "It incorporates so many different aspects, so I think it's a good sentiment, whether people are optimistic or pessimistic, but it's a little harder to drill down and figure out exactly the sources of those [feelings], and kind of what might be causing the right track/wrong track responses."
Nashvillians have become more concerned about the cost of living, affordable housing and a perception of rising crime. Since 2015, according to the Vanderbilt Poll, wrong-track numbers have steadily increased from 22 percent to 53 percent. This mirrors the findings of one major set of polls the Scene examined — rising from 20 percent in 2015 to 55 percent in 2020 — and from a series of private polls in the fall of 2021 and spring of 2022, each of which found wrong-track respondents outnumbering right-track ones.
The problem for the mayor is that when voters' moods shift to being negative, officeholders can become some of their first targets.
"You don't want an electorate that thinks that we're on the wrong track," Clinton says. "It doesn't necessarily mean that it's game over for you. But all else equal, you don't want things to be on the wrong path. That's not great for an incumbent."
Just ask David Briley. 
In early 2019, a poll commissioned by Briley's campaign for reelection found that none of his potential mayoral competitors, including then-Councilmember-at-Large John Cooper, had any amount of name recognition. And yet, an undercurrent in the poll numbers worried some around Briley that a well-funded candidate might be able to exploit the opening. When the city erupted over the removal of cherry trees by the NFL during the preparations for the NFL Draft, Cooper hopped into the race. He buried the underfunded Briley campaign with television ads beginning in June and a blizzard of direct mail and ads on social media.
Also worrisome for Cooper are rising negative perceptions about him. A February poll found 36 percent of the electorate with a favorable impression of the mayor and 46 percent unfavorable. An April survey was similar, with 43 percent favorable and 48 percent unfavorable. A year earlier, in April 2020, those numbers were flipped, with 43 percent positive and 36 percent negative, according to a different poll. (The outlier in recent results, the Vanderbilt Poll has Cooper's favorability at 56 percent; at the same point in 2019, Briley's favorability was 66 percent.)
It's hard to pin a change in polling on a single event (though the city's garbage problems did spike shortly before that period). In the same February poll, there was also a harsh split along partisan lines, with 59 percent of Democrats rating Cooper favorably versus 22 percent unfavorably. But among independents, the figures were reversed (20 percent favorable versus 55 percent unfavorable), while 80 percent of Republicans held a negative view. It was independents and conservatives who flocked to Cooper in the 2019 runoff and gave him an overwhelming win over Briley.
Combine these numbers with lingering negativity in the city, and you begin to understand why so many candidates are contemplating a run.
---
Nashville mayors almost always get a second chance. Beverly Briley, Richard Fulton, Phil Bredesen, Bill Purcell and Karl Dean all served multiple terms. The lone exception in that run, Bill Boner, chose not to run again.
The mayor just has to avoid self-inflicted controversy. (Like maybe not appearing on a national talk show with a girlfriend — while still married to his third wife, as Boner did.) Nashville's leaders in recent years have faced only token opposition. They've drawn a caliber of challenger like Marvin Barnes, who finished third to Dean in 2011 and told the Nashville Ledger during the race: "I've had several things that have bothered me for several years. I'm not going to go into detail."
That's why the field currently kicking the tires on a run against Cooper is so notable. Several potential candidates are capable of self-funding, at least two members of the Metro Council are interested, and one Republican CEO has switched from a congressional race to this one. 
One of those councilmembers, Freddie O'Connell, already has begun raising money.
The 19th District representative skipped the State of Metro address and instead began making phone calls to people letting them know he was running for mayor. Standing on the sidewalk at the Davidson County Election Commission after registering his treasurer, O'Connell derided the lack of transit focus for a city increasingly jammed with cars.
"This is a mayor who seems to be resolutely not building a transit system for a city that is a top 25 American city," O'Connell said. "I want to build a Nashville that works together again, right? I want people who feel so good about the sense of common purpose that we're coming together to do amazing things in our schools, to build that transit system and have it be a community-based plan that serves people and literally drives down people's cost of living."
According to O'Connell, Nashville has largely avoided a conversation about transit since voting down a light-rail referendum in May 2018. Cooper's administration has reorganized transit under its own department, something O'Connell said is not enough.
"We have used one-time federal money to make incremental improvements in transit," he said. "The thing that is going to keep us from being as competitive as most other cities of our size is our lack of dedicated funding."
The reason O'Connell is the first candidate to file any paperwork is because he's unable to stroke a seven-figure check to his campaign. One of John Cooper's real advantages in 2019 was the ability to wait until the last minute to enter the race, shortening the election window and increasing the power of his monetary advantage over Briley. O'Connell needs to reach a lot of donors to make his candidacy viable, and that takes time.
Others have the ability to wait. 
Thistle Farms CEO Hal Cato has been exploring a run for six months and will make a decision when he leaves his current job this summer. He and his husband, Michael Burcham, could devote several million dollars to a race. Cato has run at least one poll and distributed parts of it to the media last week.
Former Alliance Bernstein COO Jim Gingrich, who ran a poll of his own recently, has been exploring a run as well.

 

Matt Wiltshire recently departed as the chief strategy officer for the Metropolitan Department and Housing Agency with the intention of running. A former investment banker and chief of the Department of Economic and Community Development for two mayors, Wiltshire and his wife, Western Express executive and co-owner Cristina Wieck, have the ability to at least partially fund a campaign. (Wieck is a member of the Nashville Banner's advisory board. The board has no access to editorial content prior to publication.)
State Rep. Bob Freeman — son of Freeman Webb CEO Bill Freeman, who owns the Nashville Scene — would have access to his father's formidable war chest.

 

Councilmember Sharon Hurt may lack the resources of some others, but as a Black candidate who already has won a countywide race, she would bring other strengths to the race if she ran. She will make a decision later this summer.

 

Covenant Pay CEO Quincy McKnight, a Republican, declared his intention to run in February.
Any one of that group might make a tough opponent for Cooper and certainly represents an upgrade over the quality of candidates past mayors have faced.
But Bill Purcell knows there always are people lurking in the tall grass.
"First of all, it turns out that there are many more people than you would ever imagine," the former state House majority leader and mayor says with a wry chuckle. "Those mothers must have looked down in the cradle and whispered, 'You would be a great mayor.' And then a certain number of them think about it quite a lot. Choose your election cycle: There are many more people than you and I know who are thinking to themselves, 'I could and should be a great mayor,' because they heard it at an early age."
As a reporter pitches the idea that Cooper might face a field he and other mayors didn't, Purcell demurs. The press is much more interested in this race right now than anyone in the city, he says. Despite so many major issues on the electorate's mind — from COVID to the Ukraine to the possible repeal of Roe v. Wade — he says suggesting that Cooper is facing anything different than past mayors is a stretch.
"You know, I mean, these are challenging and difficult times," he says. "No question about it. But I don't think other than that — which is a lot, I acknowledge — I think it doesn't feel all that different. Honestly I think it'd be a mistake to suggest the terms of the political realities on the ground are that different right now."
Purcell, who was appointed to chair MDHA's board of commissioners by Cooper, still sees the race as Cooper's to lose.
"The reality is that for the last two years, most mayors in America have found themselves constrained in ways that no modern mayor has faced," he says. "I think that in terms of your basic question, the answer will come this year now that we are returning to normal. And I think the advantage that you have is that he has righted our financial situation, and the benefits of that will be especially apparent in the year ahead."
---
Cooper wound down his State of Metro address touting investments in the city. More cops. More sidewalks. Faster response to potholes.
"This isn't easy work, and there's a lot to do," he said. "But I know we're up for the challenge. Now, let's get to work." If not exactly the St. Crispin's Day speech, it was an accurate assessment of the coming year — he must put enough visible, tangible evidence of a city government at work to earn a second term.
Cooper will do it with a staff significantly different from the one he began with. 
Gone are chief of staff Bill Phillips and finance director Kevin Crumbo, who put together the nuts and bolts of Cooper's financial plans, including the property tax increase. 
Robert Cooper, who directed the Department of Law and was responsible for several high-profile successes in court, returned to private practice last summer. 
Robert Fisher, considered a rising star as deputy chief of staff, left for a nonprofit. 
Katie Lentile, who developed Cooper's message during the campaign and ran communications, left after little more than a year. 
Also departed are a policy director, one economic and community development chief and a deputy, a communications manager, one press secretary, a speechwriter, a transit chief, a senior adviser, a director of governmental relations and at least eight admins. 
This level of turnover is high even for political jobs, as previous mayoral administrations held onto core staff, sometimes for multiple terms. Those who have left describe Cooper as someone who was prone to micromanagement and sometimes anger. In the middle of the city's COVID response, for example, Cooper once ripped apart a speech to the writer's face. 
In their place, among many, have come some veterans — Wally Dietz to run Metro Legal and Tom Jurkovich as senior adviser for public affairs, for example — and a pair of younger staffers with campaign experience. There's Sam Wilcox as deputy mayor and T.J. Ducklo as communications chief. 
Inside-baseball-like staff changes animate Metro insiders and political junkies (and journalists). But there's little evidence it moves voters, a majority of whom now find the city on the wrong track. For Nashville voters, education, homelessness and affordable housing are top of mind. 
If the address was Cooper's first step toward a reelection campaign, his next will come in June as he begins fundraising. The first question the mayor will have to answer from donors is how he plans to retire his existing $725,000 in campaign debt from 2019. Will donations made now go to the current campaign or the last one? The second question likely is how much of his own personal wealth Cooper will commit to the race. With several potential candidates able to spend heavily, he will not be able to lap the field with spending again. 
Then, depending on who else enters, Cooper will face something his Metro predecessors never had to: a yearlong race for reelection and an electorate that may be in the mood for change.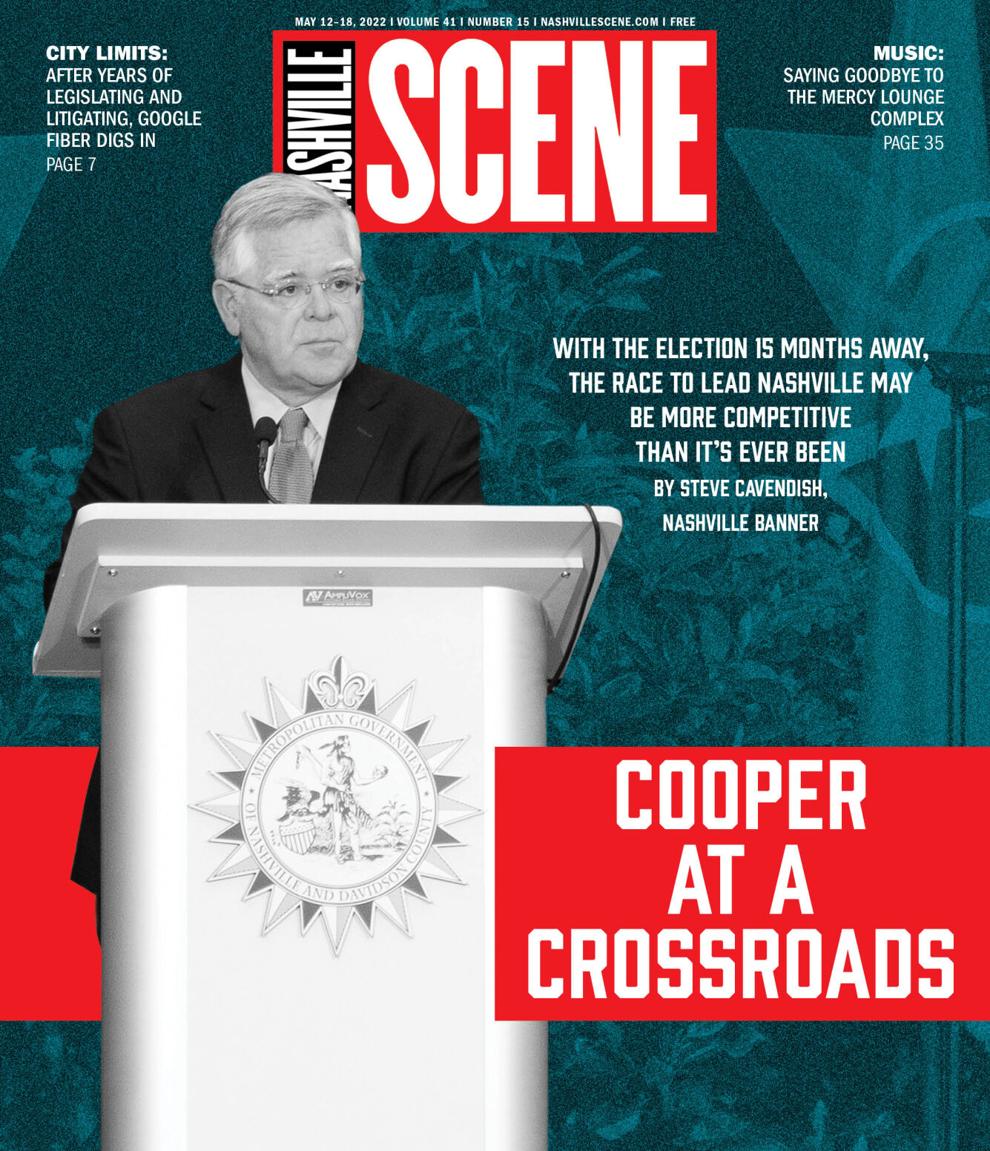 link