Finding financing options when you have bad credit can be difficult. Many lenders aren't willing to take a risk on those with poor credit or no credit. But luckily, there are lenders and loan marketplaces that will work with you to find the best auto loans for your bad credit.
We've compiled this short list of lenders and loan-matching services offering low-credit and no-credit auto loans. We carefully evaluated these companies to ensure we have presented you with credible, non-predatory options.
Best Auto Loans For Bad Credit
These lenders all have low credit score requirements, and many accept alternative data like annual income and debt-to-income ratios when considering loan approval.
1800FreshStart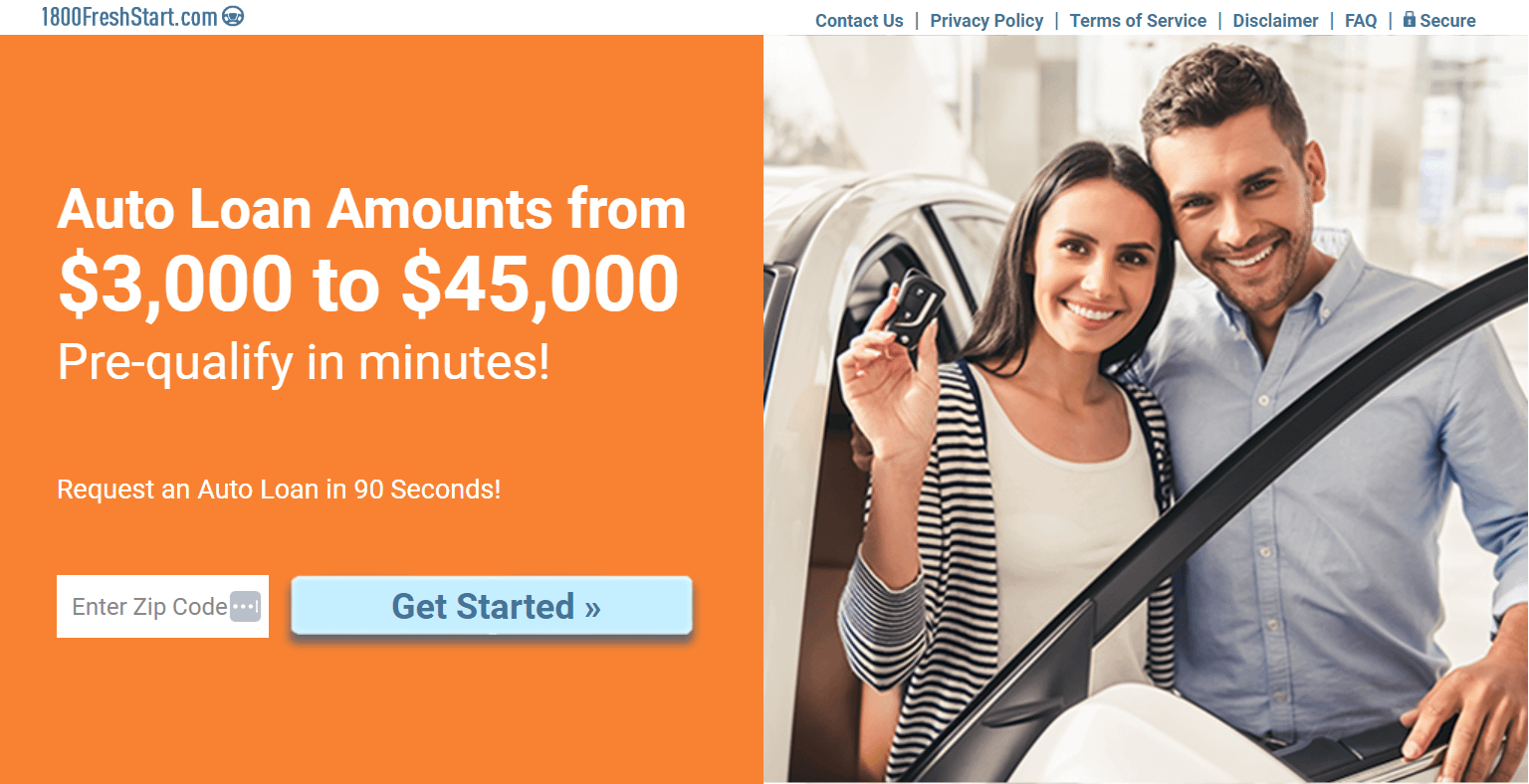 This auto loan matching service is designed to help those with bad credit qualify for financing. They can offer loans to those with poor credit, past bankruptcies, and even those without credit.
Once you fill out their application, they will work behind the scenes with lenders and dealerships to get you the best available loan terms. This company advertises that they have helped over 1 million customers since opening in 1998.
📚 Check out our full review of 1800FreshStart for additional details on the loan process.
| Credit & Loan Requirements | |
| --- | --- |
| Credit score | no credit is needed |
| Down payment | as low as 0% |
| Annual income | $12,000 |
| Bankruptcies allowed | Yes |
| Loan values | $3,000 – $45,000 |
| Repayment terms | 36 – 60 months |
| Average approval time | 24 – 48 hours |
How Much Does It Cost?
1800FreshStart does not charge application fees; instead, they earn money from lenders by charging for their sales leads.
The lenders will charge you interest on your loan (APR) and may charge additional fees, so be sure to check the full terms of your loan offer. 1800FreshStart does not advertise APRs that customers have received.
---
Lending Tree
This loan matching service offers a variety of loans, including auto loans. When you fill out your loan application, they'll match you with up to 5 lenders from their network of over 500 lenders.
A large network of lenders means they can cover loans up to $4 million (unlikely for auto loans) and offer competitive APRs. Plus, you can receive loan approval in as little as 1 minute.
📚 Read our full review of Lending Tree's auto loan matching service.
| Credit & Loan Requirements | |
| --- | --- |
| Credit score | no minimum credit score is required |
| Down payment | at least 10% |
| Annual income | N/A |
| Bankruptcies allowed | Yes |
| Loan values | $250 – $4 million |
| Repayment terms | 12 – 84 months |
| Average approval time | 1 – 60 minutes |
How Much Does It Cost?
Lending Tree does not charge you anything. Instead, they collect a set fee from each lender they recommend.
The lender then earns money through the interest (APR) and additional fees, like a loan origination fee. Lending Tree currently advertises the following lowest APRs per loan type.
1.00% new
1.00% used
2.14% refi
With bad credit, your interest rates will be higher.
Lending Tree also offers lease buyouts but does not advertise the starting APRs on these loans.
---
Carvana

This company is well-known for its "buy a car from your couch" service. You can finance your vehicle purchase with Carvana as well.
You can borrow as much as $100,000, and they offer a pre-approval process that doesn't negatively impact your credit. Plus, all their vehicles have a money-back guarantee, which includes rolling back the loan.
Carvana's lending services are only available on Carvana purchases, and they currently do not serve Hawaii or Alaska.
| Credit & Loan Requirements | |
| --- | --- |
| Credit score | 450 |
| Down payment | 0% |
| Annual income | $4,000 |
| Bankruptcies allowed | Yes |
| Loan values | $1,000 – $100,000 |
| Repayment terms | 36 – 72 months |
| Average approval time | 2 – 3 minutes |
How Much Does It Cost?
Carvana makes money on its APR charges. They do not charge any loan origination fees or prepayment penalties. They might charge you fees associated with your vehicle purchase, i.e., delivery fees.
The lowest APR reported by some customers is as low as 3.9%, while the highest advertised for poor credit is 27%.
---
MyAutoLoan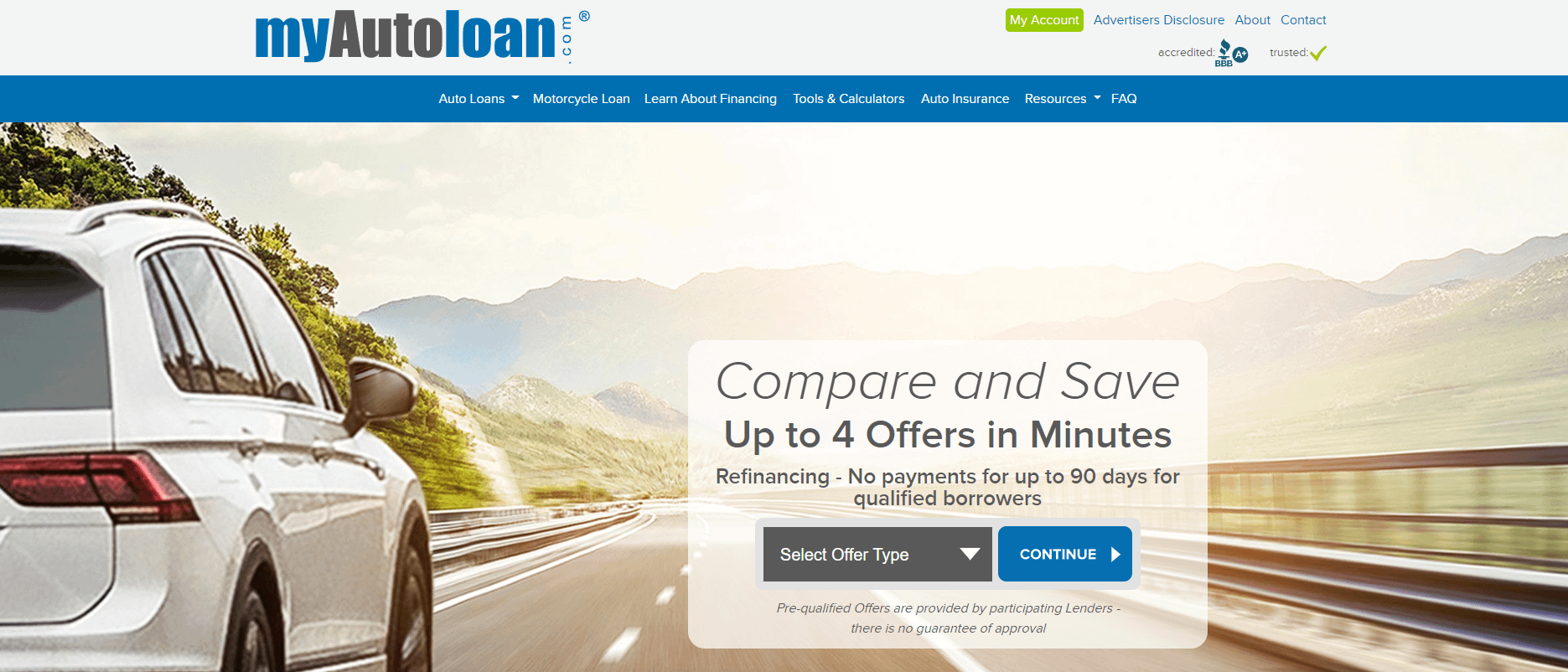 This loan matching service specializes in auto loans and allows you to compare up to 4 offers simultaneously without negatively impacting your credit.
MyAutoLoan is one of the few matching services that provide loans on vehicles purchased at a dealership or through a private party (i.e., buying from your neighbor). Plus, MyAutoLoan offers low APRs on lease buyouts and refis, making them a good choice for any type of auto loan.
MyAutoLoan is not currently available in Alaska or Hawaii.
| Credit & Loan Requirements | |
| --- | --- |
| Credit score | 575 |
| Down payment | as low as 0% |
| Annual income | $21,600 |
| Bankruptcies allowed | Yes |
| Loan values | $5,000 – $100,000 |
| Repayment terms | 36 – 84 months |
| Average approval time | as little as 30 seconds |
How Much Does It Cost?
MyAutoLoan is a matching service, and filling out their application is 100% free. They receive money from lenders for matching you.
Each lender will charge you APR and could charge you additional fees, so read your offer terms carefully.
The starting APRs MyAutoLoan advertises are
3.69% new
3.94% used
2.49% refi
2.39% buyout
3.99% private party
These rates are based on repayment terms of 37 – 60 months. Shorter or longer repayment terms will result in higher rates. And having bad credit will mean higher APRs.
Visit Website
---
One Main Financial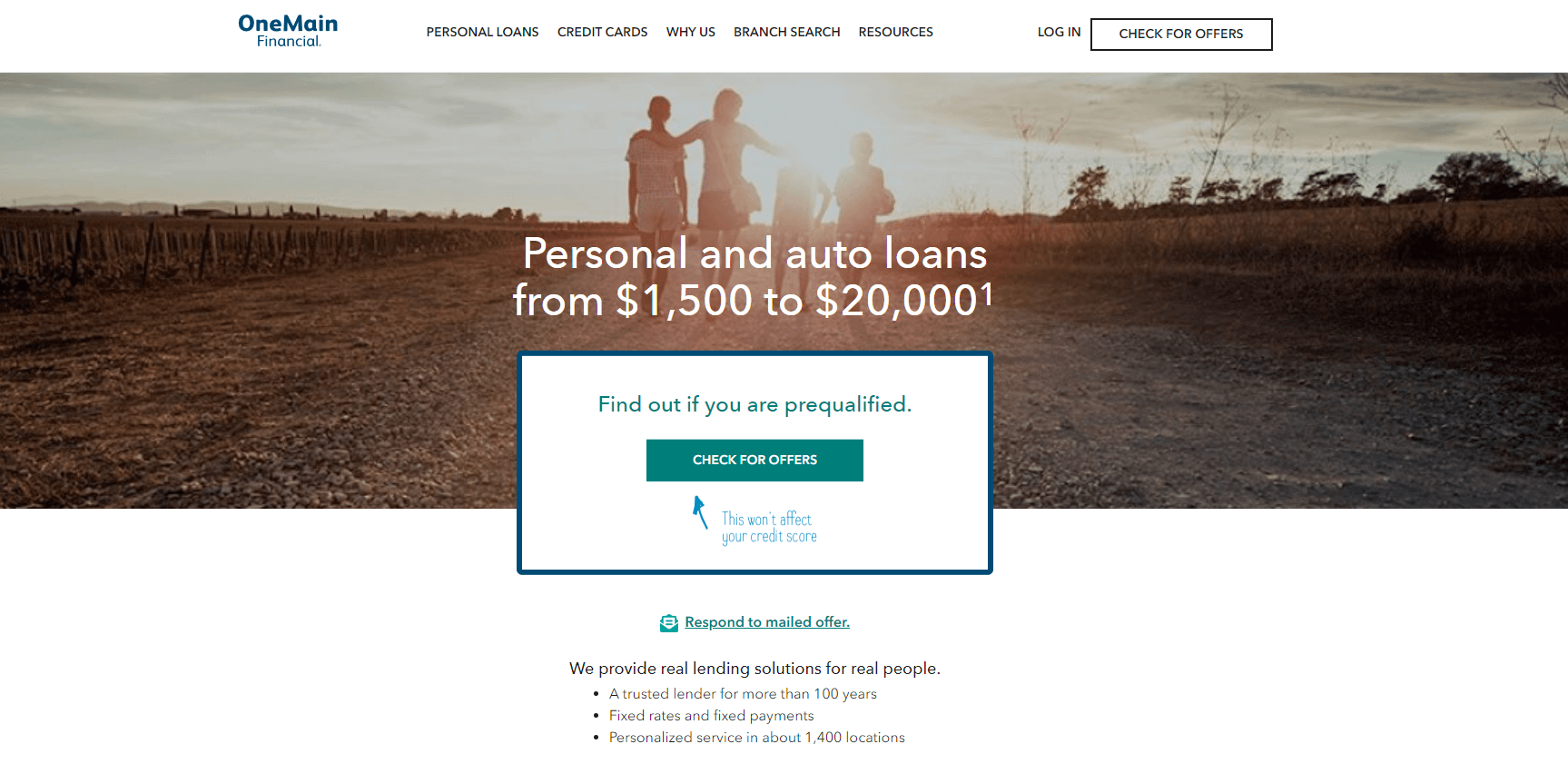 If you are looking for an alternative to a traditional auto loan, One Main Financial offers personal loans that you can use for vehicle purchases. These loans can be secured or unsecured, which means you don't have to use your car as collateral. 
That said, these loans are limited and expensive. Loan values max out a $20,000, and APRs range from 18% to 35.99%.
One Main Financial does not service loans in AK, AR, CT, MA, RI, or VT.
| Credit & Loan Requirements | |
| --- | --- |
| Credit score | 560 |
| Down payment | $0 |
| Annual income | $7,200 |
| Bankruptcies allowed | No |
| Loan values | $1,500 – $20,000 |
| Repayment terms | 24 – 60 months |
| Average approval time | 24 hours |
How Much Does It Cost?
One Main Financial's interest rates start at 18% and go as high as 35.99%!
Additionally, they charge an origination fee on all of their loans which, according to their fee disclosure, could be up to $500 or 10% of your loan value.
---
A Comparison of the Best Auto Loans for Bad Credit
For a quick overview of the key features of each of the above-mentioned lenders and loan marketplaces, we've compiled the below table for your reference. Here, you can quickly find the loan/service that best fits your needs.
| | Loan Method | Loan Types | Max Loan Value | Minimum Downpayment | Minimum credit score | Bankruptcies Allowed |
| --- | --- | --- | --- | --- | --- | --- |
| 1800 Start Fresh | Matching | Dealer, refinance, lease buyout | $45,000 | $0 | None | Yes |
| Carvana | Direct | Dealer *Carvana only | $100,000 | $0 | 450  | Yes |
| Lending Tree | Matching | Dealer, refinance, lease buyout | $4million | 10% | None | Yes |
| MyAutoLoan | Matching | Dealer, refinance, lease buyout, private party | $100,000 | $0 | 575 | Yes |
| One Main Financial | Direct | Dealer, refinance | $20,000 | $0 | 560 | No |
How to Find the Best Auto Loans With Bad Credit
Searching for an auto loan can be difficult when you don't have the best credit. Lenders prefer creditors with good credit as they are more likely to repay their debts.
In the table below, you can see the most recent average interest rates for both new and used cars by credit score.
Average auto loan rates for Q2 (April – June) 2022
Category
Score Range
New car
average interest rate
Used car
average interest rate
Deep subprime
300-500
12.93%
19.81%
Subprime
501-600
10.11%
15.86%
Near prime
601-660
7.25%
9.81%
Prime
661-780
4.90%
5.47%
Super prime
781-850
3.84%
3.69%
*Actual interest rates are based on many factors such as state, down payment, income, and others.
So, when you have bad credit, how do you find an affordable auto loan?
Pitfalls to Watch Out For
Unfortunately, when you have bad credit, lenders and loan matching services may try to take advantage of you.
Loans for those with bad credit can come with high fees (such as origination fees and finance fees), high interest rates, large down payment or income requirements, and limited terms.
For instance, Lending Tree requires a 10% down payment, One Main Financial has high APRs and fees, and MyAutoLoan has a high annual income requirement.
That said, there are other predatory practices that you'll want to avoid. Things like application fees, rate lock fees, requiring credit repair services, balloon payments, and any promises that sound too good to be true.
The one upside to taking out an auto loan with bad credit is that you can refinance later once your credit improves.
📚 Learn more about how to refinance a car loan and when is a good time to refinance.
How to Improve Your Approval Odds
Let's take a look at some steps you can take to improve your chances of loan approval.
Get prequalified and avoid dealer upcharges and unnecessary hard inquiries.
Buy less car: set a budget and stick to it, don't let a dealer talk you into more car than you need.
Put more money down: the more you put down, the less you finance, which means less risk for the lender.
Shorten the repayment terms: financing for 60 months or less could lower your APR and expand your loan options.
Contact your local credit union or bank: using established relationships can increase your approval odds.
Improve your credit score: use services and tools to boost your score now, or wait for your credit history to age.
Add a co-applicant: a cosigner with good credit can land you a loan when you can't qualify on your own.
Lower your debt-to-income ratio: try to pay down your debt and/or increase your income.
📚 A long-term loan can keep your monthly payment down and might seem to make that dream car more affordable. That doesn't always make it a good deal. Learn about the financial implications of long term auto loans.
Bottom Line
Options for auto loans may be limited when you have bad credit, but financing is not impossible. Yes, you'll need to watch out for predatory pricing and practices, but there are some honest lenders out there willing to work with your bad credit without charging exorbitant fees.
One of the lending options from this list might be a good fit for you!
Our Methodology
When evaluating lenders and matching services to determine which were best for individuals with bad credit, there were a few important factors we considered. 
Credit
We only looked at lenders and matching services who advertised minimum credit scores below 580.
Additionally, we paid close attention to which lenders/matching services allowed creditors to have past bankruptcies and which didn't.
Down Payment
Supporting low credit scores is great, but not if it comes with a hefty down payment. 
Most of the lenders/matching services we evaluated offer loans with zero down payment. Lending Tree is the exception, requiring a reasonable down payment of 10%. On a $30,000 loan, this would be $3,000.
Income
Another vital factor to consider when evaluating loans for poor credit individuals is the income requirements.
A few of the entries on our list had no annual income requirements, i.e., Lending Tree. Of those that did, the highest was MyAutoLoan, with a $21,600 requirement which is still well below the median per-person income in the US.
Loan values
Bad credit usually means a limit on how much you can borrow. But most lenders on our list offer loans at $100,000 or more.
The big exception is One Main Financial, whose loans top out at $20,000, which can still be helpful in purchasing used vehicles.
APR
Taking out a loan with poor credit will likely involve a high APR. While most of the options we listed offer low interest rates, these rates are only for those with excellent credit.
That said, most matching services give you several lenders offers so that you can choose the lowest rate. And the direct lenders listed readily advertise their highest rates, i.e., 27% for Carvana and 35.99% for One Main Financial.
link